Marquis de Lafayette Silver Dollar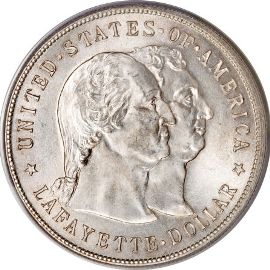 The Marquis de Lafayette Dollar stands alone as the only silver dollar in the Classic Commemorative series. The whole authorized mintage of 50,000 coins were produced in one day, ironically it was Dec 14, 1899, exactly 100 years after George Washington's death.
Marquis de Lafayette risked everything in order to support the American Revolution. He blatantly defied French authorities as well as his own family in order to cross the Atlantic and help the Continental Congress in their fight for freedom. He was able to secure a position as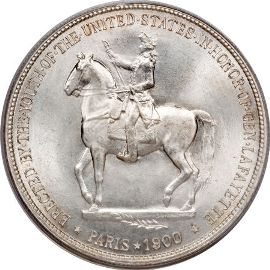 a Major General and fought many battles in the war including Valley Forge and Yorktown. He also formed a one-on-one bond with George Washington himself.
The obverse of this coin shows two images. The first is of George Washington, it happens to be the same design that is currently on modern U.S. quarters. This portrait is from a bust by Jean Antoine Houdon. The second image is of Marquis de Lafayette. It is circa 1824 and comes from a medal designed by Francois Augustin Caunois. The inscriptions that surround the portrait read "UNITED STATES OF
AMERICA" and "LAFAYETTE DOLLAR".
The reverse of the coin shows General Lafayette on his horse, and is based on sketches by Paul Wayland Bartlett. A statue was erected in Paris that is very similar to the reverse design of this coin. The inscriptions that surround the design read "ERECTED BY THE YOUTH OF THE UNITED STATES IN HONOR OF GEN LAFAYETTE" and "PARIS 1900". These dollars are undated however it appears as though the coins were dated for 1900. Technically they were made in 1899 and this is only an inscription, not the actual date. It was not the custom of the mint to strike coins in one year and date them for another.
The vast majority of these coins were sold to non-collectors therefore most of them were not properly cared for and preserved. These large silver coins are common in circulated grades up to MS-64 and become increasingly scarce to very rare in the higher grades.
Dates Minted: 1899 but dated for 1900
Authorization: Act of March 3, 1899
Authorized mintage: 50,000
Actual distribution: 36,000
Designer: Charles Barber
Weight: 26.73 grams
Composition: 90% Silver, 10% Copper
Diameter: 38.1 mm




Marquis de Lafayette Dollar to Commemorative Coins
Back to Coin Collecting Homepage