Martin Van Buren Presidential Dollar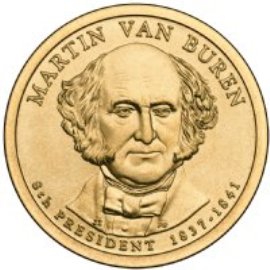 The Martin Van Buren Presidential Dollar marks the eighth in the series. The coins were first released into circulation on November 13, 2008. Van Buren only served one term in office from 1837 to 1841.
Some fun facts about Van Buren include being the first president to be born in the new United States. He also raised his four sons after his wife died. Van Buren also opposed making Texas a state. One other thing that he was known for is ordering over 20,000 Cherokee Indians to move from the eastern states to Oklahoma in what was to become known as the Trail of Tears.
The obverse of this golden dollar shows a portrait of him with his name inscribed above, and "8th PRESIDENT 1837-1841" inscribed below.
The reverse of the coin is the same on all issues. It bears a portrait of the Statue of Liberty, and includes the inscriptions "UNITED STATES OF AMERICA," and "$1" for the denomination.
The edge of the coin has the date and mintmark along with the mottoes "IN GOD WE TRUST" and "E PLURIBUS UNUM."
Born: December 5, 1782
Birthplace: Kinderhook, New York
Political Party: Democratic
Term of Office: March 4, 1837 thru March 3, 1841
Vice President: Richard M Johnson
First Lady: Angelica Singleton Van Buren, his daughter-in-law
Nickname: Little Magician
Died: July 24, 1862




Martin Van Buren Presidential Dollar to Presidential Dollars
Back to Coin Collecting Homepage