McKinley Memorial Gold Dollar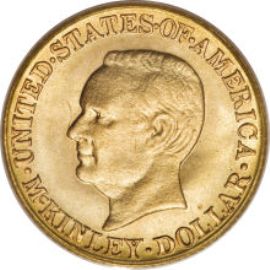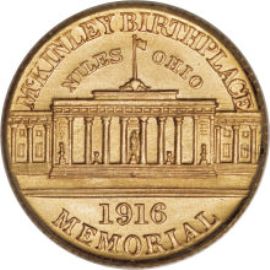 The McKinley Memorial Gold Dollar was authorized in order to partially pay for a memorial for William McKinley located in Niles, Ohio. This was the birthplace of the 25th President of the United States, who was assassinated in 1901.
William McKinley enlisted in the Union Army as a private for the Ohio volunteer infantry at the beginning of the American Civil War. By the end of the war in 1865 he had been promoted to Brevet Major. Following the war he attended Albany Law School and was admitted to the bar in 1867, he also married Ida Saxon in 1871. His political life began in 1877 when he was elected to the U.S. House of Representatives. He served two terms, from 1877 to 1882, and 1885 to 1891. He was then elected Governor of Ohio in 1891 and re-elected in 1893. On March 4, 1897 William McKinley became our 25th President of the United States. After the beginning of his second term, William McKinley was shot twice by Leon Frank Czolgosz and died on September 14, 1901.
The McKinley Gold Dollar was originally supposed to be struck as a Silver Dollar. However, during his term in office McKinley opposed the use of the Silver Dollar, and was in favor of the gold standard. The House Committee finally changed the size and composition of the coin to match what they thought the former President would want.
The obverse of this small gold dollar shows a portrait of William McKinley designed by Charles E Barber. The inscriptions on the front read "UNITED STATES OF AMERICA" and "MCKINLEY DOLLAR".
The reverse of the coin depicts the McKinley Memorial Building that was built in memory of the fallen president. The back of the coin was designed by George T Morgan. Above the building the coin reads "MCKINLEY BIRTHPLACE" and "NILES OHIO". Below the building the inscription reads "MEMORIAL" and the date of either 1916 or 1917.
Unfortunately, the US Mint did not keep accurate records as to how many of these coins were melted after production. However, it is estimated that roughly 12,000 survivors are dated 1916 and 8,000 are dated 1917. These numbers are based on the known number of coins that have been certified through third party grading services.
Dates Minted: 1916 & 1917
Authorization: Act of February 23, 1916
Authorized mintage: 100,000
Actual distribution: 20,000 (Estimated for both years)
Designer: Obv: Charles E Barber, Rev: George T Morgan
Weight: 1.67 grams
Composition: 90% Gold, 10% Copper
Diameter: 15 mm




McKinley Memorial Gold Dollar to Commemorative Coins
Back to Coin Collecting Homepage