Monroe Doctrine Centennial Half Dollar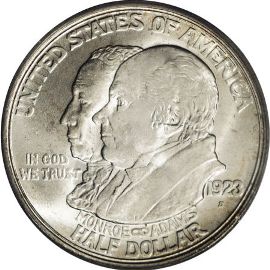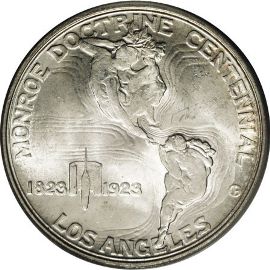 The 1923 Monroe Doctrine Centennial Half Dollar was produce to commemorate the 100th anniversary of writing of this famous document. The policy was written by John Quincy Adams and was introduced by President James Monroe on December 2, 1823. It states that any effort by a European nation to interfere or otherwise attempt to colonize land in North or South America, would be deemed an act of aggression, and followed by U.S. intervention.
Most all other obsolete commemorative coins of the era were made to make money for their respective commissions. These organizations were usually responsible for any expenses associated with a given celebration. This coin is different in that respect. It was issued and sold by the Hollywood motion picture industry.
Why the motion picture industry? Well, they decided to clean up their image during the 1920's and part of that included having the first ever public film exposition. The industry also decided they would issue a commemorative half dollar. Initially, they were looking for anything at all to commemorate. As a matter of pure coincidence this U.S. policy happened to be 100 years old. Therefore, they decided to take advantage of it. Ironically, many of the people who purchased them did not even realize it at the time.
The obverse of this coin shows images of James Monroe and John Quincy Adams. The inscriptions around the edge of the coin read "UNITED STATES OF AMERICA", HALF DOLLAR" with "MONROE – ADAMS" being positioned under the portrait. The coin also reads "IN GOD WE TRUST" to the left, and is dated 1923 on the right.
The reverse of the coin depicts North and South America using two female figures. In the lower left field it reads "1823 – 1923" along with a quill and a scroll in representation of the document. The inscriptions on the reverse are "MONROE DOCTRINE" around the top and "LOS ANGELES" at the bottom.
Dates Minted: 1923
Authorization: Act of January 24, 1923
Authorized mintage: 500,000
Actual distribution: 274,000
Designer: Chester Beach
Weight: 12.50 grams
Composition: 90.0% Silver, 10.0% Copper
Diameter: 30.6 mm
Monroe Doctrine Centennial Half Dollar to Commemorative Coins
Back to Coin Collecting Homepage