Morgan Silver Dollars 1878-1904 & 1921
Morgan Silver Dollars have been the focus of many coin collectors over the years. In my opinion this series is the most highly collected and probably gets more attention than any other US coin. These coins have been heavily studied and many books have been written on them. Morgan dollars were produced from 1878 to 1904 and again in 1921. Also, these silver coins were minted at five different mint facilities.
The obverse features a left-facing portrait of Miss Liberty and was designed by George T. Morgan. Inscriptions on the obverse read "E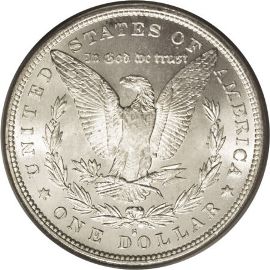 PLURIBUS UNUM" around the top and "LIBERTY" on her cap. The entire design is surrounded by thirteen stars, seven to the left and six to the right, along with the date at the bottom.
The reverse of these silver coins has an eagle with wings spread, clutching an olive branch and three arrows in its talons. Under the eagle is a laurel wreath with a bow in the center. The coin reads "UNITED STATES OF AMERICA" and the denomination "ONE DOLLAR" around the entire design. Also, "IN GOD WE TRUST" is written between the eagles wings.
Coin Specifications:
Designer: George T. Morgan
Weight: 26.73 grams
Comp: 90.0% Silver, 10.0% Copper
Diameter: 38.1mm
Edge: Reeded




Morgan Silver Dollars to Silver Dollars
Back to Coin Collecting Homepage