Nickel Three Cent Pieces were made to replace their silver counterparts.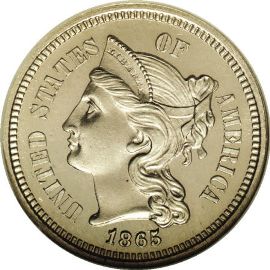 The Nickel Three Cent Piece made it's debut in 1865 and ran through 1889. These coins began production because during the civil war all silver coins were hoarded for their intrinsic value.
The obverse of this coin features a portrait of Liberty with her head facing to the left. The words "UNITED STATES OF AMERICA" encircle the design with the date at the bottom.
The reverse has the same laurel wreath as the Indian head pennies of 1859. Within this wreath, the roman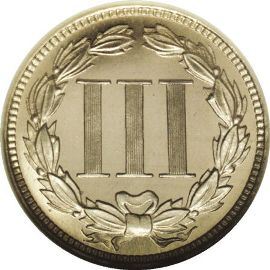 numerals III indicate the denomination as three cents.
With the Coinage Act of 1889 this denomination as well as $1.00 and $3.00 gold pieces were abolished.

Coin Specifications:
Designer: James B. Longacre
Weight: 1.94 grams
Composition 75% Copper, 25% Nickel
Diameter: 17.9mm
Edge: Plain




Nickel Three Cent Pieces to Three Cents
Back to Coin Collecting Homepage