Peace Dollar (High Relief) 1921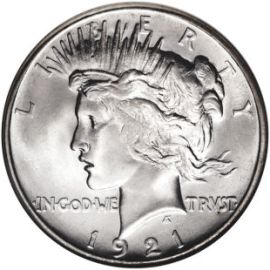 The Peace Dollar of 1921 was struck very late in that year. In fact, they were made in the last week in December and only total 1,006,473 pieces according to the Guidebook of US Coins. The mint soon realized that due to the high relief design, these large silver coins were very difficult to strike causing excessive wear and die breakage. This is the main reason this coin is a one year type coin. Many coin collectors are interested in the high relief version of this series.
This Silver Dollar was designed by Anthony De Francisci and was meant

to commemorate and celebrate the end of WWI. The obverse of this coin shows a portrait of Miss Liberty facing left. Coincidentally, the model that was used for the portrait was the designer's young wife Teresa. The front of the coin bears inscriptions of "LIBERTY", "IN GOD WE TRVST" and the date.
The reverse of the coin shows an eagle perched on a rock and has inscriptions of "UNITED STATES OF AMERICA", "E PLURIBUS UNUM" and the denomination "ONE DOLLAR". Peace silver dollars are the only US coins produced for circulation that bear the word "PEACE".
Coin Specifications:
Designer: Anthony De Francisci
Weight: 26.73 grams
Comp: 90.0% Silver, 10.0% Copper
Diameter: 38.1mm
Edge: Reeded




Peace Dollar (High Relief) to Silver Dollars
Back to Coin Collecting Homepage