Queen Isabella Quarter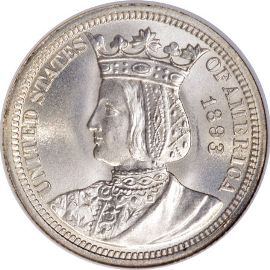 The Queen Isabella Quarter was one of two coins produced to commemorate the Columbian Exposition (Chicago Worlds Fair) in 1892-93. The coin was made a reality due to the efforts of
Susan B Anthony
. She ensured women's contribution to the fair by pressuring officials to appoint a Board of Lady Managers.
The act that authorized these coins stipulated that the silver used in producing them must be derived from melted obsolete US coins. Half Dimes, Half Dollars and Silver Dollars, among many others, went to the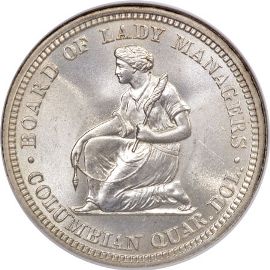 melting pot to create them. Who knows how many rarities were lost forever because of this!
The obverse of this coin shows Queen Isabella of Spain. She is responsible for financing Christopher Columbus's voyage to the New World in 1492 and also acted as Spain's queen from 1451-1504. Inscriptions on the obverse read "UNITED STATES OF AMERICA" and the date "1893".
The reverse image is meant to reflect women's role in industry. It is of a woman kneeling with distaff and spindle. Inscriptions on the reverse are "BOARD OF LADY MANAGERS" and "COLUMBIAN QUAR. DOL." around the outer part of the coin.
Most of these coins made as business strikes remain in mint state condition due to the fact they were never used or intended for circulation. The lower grade coins of MS-60 thru MS-64 are relatively common and far less expensive than the higher grades. My suggestion for an optimal collecting grade would be a nice, fully struck, MS-64 with good eye appeal. I believe this grade to be the best value for the money.
These coins are fairly well struck even though they were made as business strikes. The high points of the coin include the center of the crown and Isabella's cheek for the obverse, and the strand of wool on the kneeling woman's thigh on the reverse.
Dates Minted: 1893
Authorization: Act of March 3, 1893
Authorized mintage: 40,000
Actual distribution: 24,124
Designer: Charles Barber
Weight: 6.25 grams
Composition: 90.0% Silver, 10.0% Copper
Diameter: 24.3 mm




Queen Isabella Quarter to Commemorative Coins
Back to Coin Collecting Homepage