Roosevelt Dimes (Silver) 1946-1964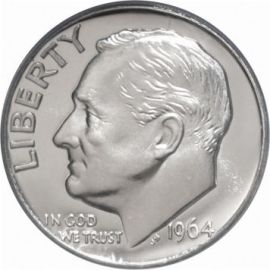 Roosevelt Dimes (Silver Variety) were coined at the US Mint from 1946 to 1964. These silver coins are a favorite of many collectors and they are normally collected in high grades or as proofs. Many young collectors start out collecting this series along with silver Washington Quarters and Kennedy Halves, due to the fact that they are inexpensive.
The obverse of this coin features a portrait of Franklin D. Roosevelt with the word "LIBERTY" inscribed at the left. Also, "IN GOD WE TRUST" and the date were at the base of the main design. President Roosevelt was

selected to appear on the dime partly to honor him in his efforts through WWII, the Great Depression and his involvement with the "March of Dimes" fundraising campaign to end polio.
The reverse shows an upright torch, symbolizing freedom, flanked by branches of olive and oak, respectively denoting peace and victory. The motto "E PLURIBUS UNUM" was awkwardly spaced between these elements in a single line. The inscriptions "UNITED STATES OF AMERICA" and "ONE DIME" are arranged around the periphery, separated from one
another by ornamental dots.
Coin Specifications:
Designer: John R. Sinnock
Weight: 2.50 grams
Comp: 90.0% Silver, 10.0% Copper
Diameter: 17.9mm
Edge: Reeded




Roosevelt Dimes (Silver) to Dime
Back to Coin Collecting Homepage