Seated Liberty Dimes with Arrows - Reduced Metal Content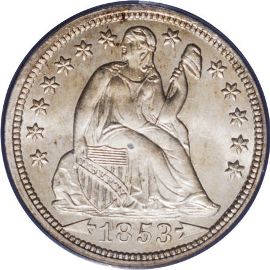 Seated Liberty Dimes with Arrows represent the third variety in the series. They were coined at the US Mint from 1853 to 1855. Due to the prevailing spot price of silver, many of these silver dimes, along with the larger denominations were melted, as the metal content was worth more than the coins themselves. With the Act of February 21, 1853 Congress authorized a 6.9% reduction in silver content. This decision by Congress saved many coins from the melting pot.
The obverse of this coin is very similar to those that came before it.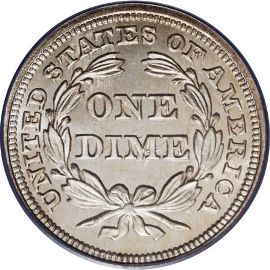 This dime bears a rendition of Liberty that was designed by Christian Gobrecht and inspired by the British image of Britannia. Liberty is seated upon a rock and is surrounded by thirteen stars. The date is below her with arrows at the left and right of it. The arrows were added to indicate the reduction in silver content to local merchants.
The reverse of the coin features a laurel wreath with a bow at its base. The coins denomination of "ONE DIME" is within the wreath, and the inscription "UNITED STATES OF AMERICA" surrounds it.
Coin Specifications:
Designer: Christian Gobrecht
Weight: 2.49 grams
Comp: 90.0% Silver, 10.0% Copper
Diameter: 17.9mm
Edge: Reeded




Seated Liberty Dime (Stars & Arrows) to Dimes
Back to Coin Collecting Homepage