Seated Liberty Dimes with Stars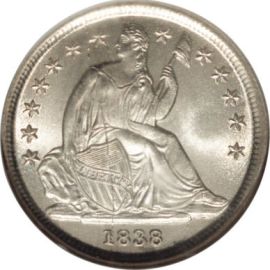 Seated Liberty Dimes with Stars were in production at the US Mint from 1838 to 1853 and then again from 1856 to 1860. The years in between also had stars on the obverse but were marked with arrows at the date to indicate a slightly reduced weight.
The obverse of these silver coins depicts a seated figure of Liberty with her right hand on a Union Shield and her left grasping a pole topped by a Liberty Cap. The message Liberty is portraying is one of preparedness and freedom. The date is below her and she is surrounded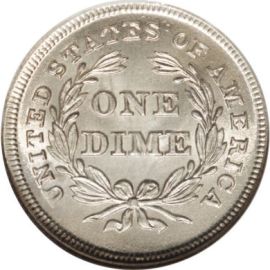 by thirteen stars signifying the original colonies.
The reverse of the coin features a simple statement of the coins value. The inscription "ONE DIME" appears within a laurel wreath tied by a bow. That, in turn, was encircled by "UNITED STATES OF AMERICA" around the entire design.
Coin Specifications:
Designer: Christian Gobrecht
Weight: 2.67 grams
Comp: 90.0% Silver, 10.0% Copper
Diameter: 17.9mm
Edge: Reeded




Seated Liberty Dime (Stars) to Dimes
Back to Coin Collecting Homepage