Seated Liberty Dollars no Motto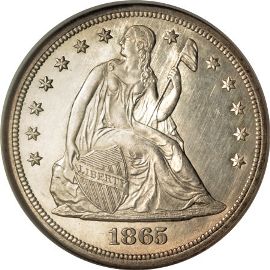 Seated Liberty Dollars (no Motto) Reverse was coined at the US Mint from 1840 to 1865. The early sketches of these coins were completed by Thomas Sully and are inspired by the British coin Britannia. The Mint's assistant engraver, Christian Gobrecht, adapted the sketches to make them suitable for coinage and is credited with the design.
These silver dollars were the first to be made since the Draped Bust Dollars of 1804 and much went into designing them. They were created to be an iconic symbol of American

silver coinage. A dollar represented approx 20 hours of hard manual labor in that era. The silver dollar was a store of wealth to millions of working class Americans.
The obverse of this coin shows the same design as the Gobrecht silver dollar that preceded it. Liberty is seated on a rock, right hand holding a Union shield, and left hand grasping a pole with a Liberty cap on top. She is surrounded by thirteen stars and with the date below her.
The reverse of the coin shows an eagle with wings spread, clutching arrows and an olive branch in its
talons. The inscriptions "UNITED
STATES OF AMERICA" and "ONE DOL."
surround the entire design.
Coin Specifications:
Designer: Christian Gobrecht
Weight: 26.73 grams
Comp: 90.0% Silver, 10.0% Copper
Diameter: 38.1mm
Edge: Reeded




Seated Liberty Dollars (no Motto) to Silver Dollars
Back to Coin Collecting Homepage