Seated Liberty Half Dimes - A reduction in metal content.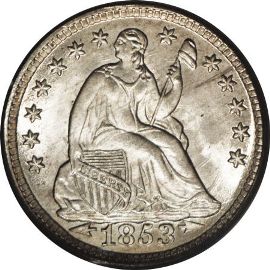 Seated Liberty Half Dimes (with Arrows) were minted between 1853 and 1855. The arrows on these small silver coins signify a reduction in the silver content of the coin.
On February 21, 1853 a bill was signed into law that authorized a 6.9% reduction in silver content on these coins. The reason was that the gold rush of the early 1850's forced the price of gold down due to the high supply of the metal. This, in turn caused the price of silver to go up, making all silver coins worth more than their respective denominations, hence they were melted and needed

to be replaced by the mint.
The obverse of these silver coins remains relatively the same as their predecessors, with the exception of the arrows at the date. They show
a figure of liberty sitting on a rock, with a shield at her right, and a
staff with a Liberty cap in her left hand. The upper-half of the design
is encircled with thirteen stars.
The reverse of the coin is the same as previous issues and shows a laurel wreath with the denomination "HALF DIME" within it. Around the wreath reads "UNITED STATES OF AMERICA".
Coin Specifications:
Designer: Christian Gobrecht
Weight: 1.24 grams
Comp: 90.0% Silver, 10.0% Copper
Diameter: 15.5mm
Edge: Reeded




Seated Liberty Half Dime (with Arrows) to Half Dimes
Back to Coin Collecting Homepage