Seated Liberty Half Dimes - Inspired by the English figure Britannia.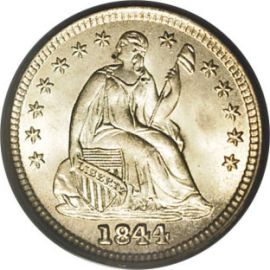 Seated Liberty Half Dimes (with stars) were produced at the US Mint from 1838 to 1859. Robert Patterson, the new mint director at the time, hired Christian Gobrecht to completely redesign the coinage using the English figure of Britannia as a basis. Gobrecht used sketches made by both Titian Peale and Thomas Sully to complete the task.
Upon first inspection, the obverse of these silver coins look to be relatively unchanged, with the exception of the stars being added. However, this series differs in a couple other ways. First, the shield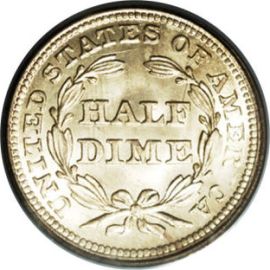 is more vertical on this issue that its earlier counterpart. Another minor change is that Liberty now has drapery below her left elbow that was not on the earlier no-stars version in 1837 and 1838.
The reverse is essentially the same on all half dimes from 1837 to 1859. It features the denomination "HALF DIME" surrounded by a laurel wreath. Also, inscribed around the wreath, reads "UNITED STATES OF AMERICA".
Coin Specifications:
Designer: Christian Gobrecht
Weight: 1.34 grams
Comp: 90.0% Silver, 10.0% Copper
Diameter: 15.5mm
Edge: Reeded




Seated Liberty Half Dime (with Stars) to Half Dimes
Back to Coin Collecting Homepage