Seated Liberty Half Dollars
(Arrows & Motto)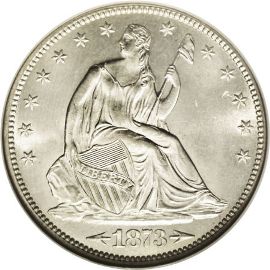 Seated Liberty Half Dollars of 1873 and 1874 resulted from Congress passing the Mint Act of Feb 12, 1873. This legislation created a record breaking 54 different varieties of US coins across 17 different denominations. This variety was included as part of the coinage overhaul of 1873. The weights of
the half dollar, quarter and dime were increased slightly to simplify their legal weight as measured in grams. As far as the half dollar goes, its weight increased from 12.44 grams to 12.50 grams.
The obverse features the same

design by Thomas Sully and engraved by Christian Gobrecht. The front of the coin shows a seated figure of Liberty with her right hand resting upon a union shield and her left hand grasping a spear topped by a Liberty cap. Thirteen stars surround her, seven to the left and six to the right. The date is below her with arrows flanking it on either side.
The reverse depicts an eagle with a shield superimposed on its breast, encircled by the inscriptions "UNITED STATES OF AMERICA" and the statement of value, "HALF DOL." From 1866 through the end of the
series in 1891, a banner above the
eagle bears the motto "IN GOD WE
TRUST". This motto made its coinage
debut during the Civil War in 1864,
first appearing on the Two-cent piece.
Coin Specifications:
Designer: Christian Gobrecht
Weight: 12.50 grams
Comp: 90.0% Silver, 10.0% Copper
Diameter: 30.6mm
Edge: Reeded




Seated Liberty Half Dollar (Arrows & Motto) to Half Dollars
Back to Coin Collecting Homepage