Seated Liberty Half Dollars (Arrows only)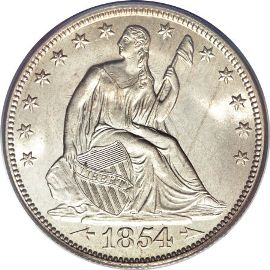 Seated Liberty Half Dollars (Arrows) variety was coined at the US Mint in 1854 and 1855 as an extension of the earlier issue of 1853. This particular issue was changed due to coinage dies being more difficult to make, then wearing out very quickly. The glory of rays on the reverse
was difficult to strike and in the end they were removed. Mint director George N. Eckert saw the need to keep a visible symbol to indicate the change in metal content, so he kept the arrows flanking the date on either side.
The obverse of these silver coins

features Liberty seated upon a rock. Her right hand is resting on a union shield and her left hand is grasping a staff topped with a Liberty cap. The entire design is surrounded by thirteen stars and the date at the bottom.
The reverse of the coin is identical to the previous issue in 1853 with the exception of the glory of rays being removed. The back of the coin features an eagle with wings spread, and a shield superimposed on its breast. The inscriptions "UNITED STATES OF AMERICA" and "HALF DOL." surround the entire design.
Coin Specifications:
Designer: Christian Gobrecht
Weight: 12.44 grams
Comp: 90.0% Silver, 10.0% Copper
Diameter: 30.6mm
Edge: Reeded




Seated Liberty Half Dollar (Arrows) to Half Dollars
Back to Coin Collecting Homepage