Seated Liberty Half Dollars with motto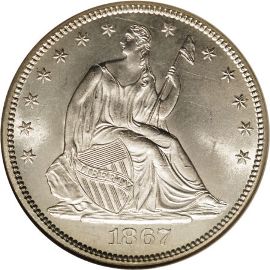 Seated Liberty Half Dollars with motto enjoyed a 26 year span in circulation from 1866 to 1891. The year of 1865 marked the end of the American Revolution, and with that, over 1 million soldiers were killed and many more injured. The nation turned to focus its attention on more important things such as survival, family and God. Individuals began submitting mottos as early as 1861, suggestions included, "GOD AND COUNTRY", "GOD OUR TRUST", "DEO EST GLORIA" and "IN GOD WE TRUST". In 1864 the US Mint decided to include the motto "IN GOD WE TRUST" on the nation's coinage,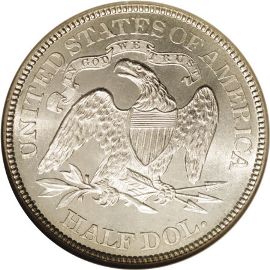 beginning with the two-cent piece.
The obverse design is a depiction of Liberty seated upon a rock and is very similar to the previous issue. Liberty is holding a union shield in her right hand and grasping a spear topped with a Liberty cap in her left hand.
The reverse of the coin shows an eagle with wings spread. A scroll above the eagle reads "IN GOD WE TRUST" The inscriptions "UNITED STATES OF AMERICA" and "HALF DOL." encircle the entire design.
Coin Specifications:
Designer: Christian Gobrecht
Weight: from 12.44g to 12.50g
Comp: 90.0% Silver, 10.0% Copper
Diameter: 30.6mm
Edge: Reeded




Seated Liberty Half Dollar (Motto) to Half Dollars
Back to Coin Collecting Homepage