Seated Liberty Quarters
(Arrows & Motto)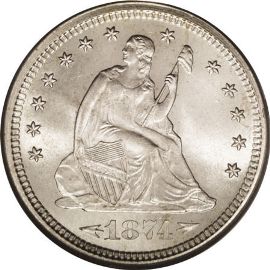 Seated Liberty Quarters with Motto and Arrows represent the fifth variety in this series. They were coined at the US Mint in 1873-74. The Mint Act that was passed on February 12, 1873 essentially demonetized silver. It eliminated silver dollar coins as a trade unit, as well as the half dime, two and three cent pieces. The Act provided for a slight increase in the weight of the dime, quarter and half dollar to conform to the "metric" system.
Since arrows at the date were used in 1853 thru 1855 as an indication of a change in weight, they were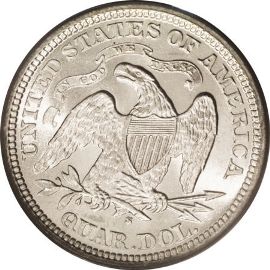 adopted again for the coinage of 1873 to 1874. The weight change was so insignificant that it made no difference whether the coins were made on old or new planchets.
The obverse of these silver coins depicts Miss Liberty seated on a rock, holding the Union Shield in her right hand and a staff in her left. On the coinage of 1873 and 1874, the date is below Miss Liberty and is flanked by opposing arrowheads.
The reverse shows an eagle with outstretched wings that is perched on an olive branch, clutching arrows and branches in its talons. Above the
eagle is a ribbon with the inscription
"IN GOD WE TRUST". Surrounding
the design is "UNITED STATES OF
AMERICA" and "QUAR. DOL."
expressed as the denomination.
Coin Specifications:
Designer: Christian Gobrecht
Weight: 6.25 grams
Comp: 90.0% Silver, 10.0% Copper
Diameter: 24.3mm
Edge: Reeded




Seated Liberty Quarter (Arrows & Motto) to Quarters
Back to Coin Collecting Homepage