Seated Liberty Quarters with Motto
A statement of faith.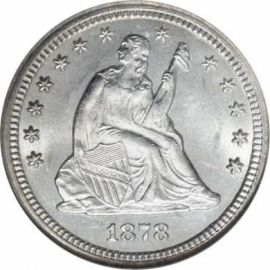 Seated Liberty Quarters with Motto were minted from 1866 all the way until the end of the series in 1891. When the American Civil War ended in 1865 many Americans began to realize the toll it had taken on the country. Most Americans turned to religion to ease their suffering, even the nation's coinage reflected this new priority. The motto "IN GOD WE TRUST" was first introduced on the two-cent piece in 1864. The public reaction to it was so positive that Congress passed the Act of March 3, 1865 to include it on all gold and silver coins of suitable size. It was later implemented in 1866 at the
beginning of this series.
The obverse on these silver coins features a seated figure of Liberty with her right hand on the Union Shield and her left hand grasping a staff with a Liberty Cap hanging
from it. The shield and the cap are intended to be symbols of preparedness and freedom. The
date is below the entire design.
The reverse design is shared with the half dollar and dollar. It depicts an eagle with a shield superimposed upon its breast. The inscription "UNITED STATES OF AMERICA" is above the eagle, and the
denomination "QUAR. DOL." below it.
The ribbon above the eagle that
says "IN GOD WE TRUST" represents
a statement of faith for the trying
times the country had endured.
Coin Specifications:
Designer: Christian Gobrecht
Weight: 6.22 grams
Comp: 90.0% Silver, 10.0% Copper
Diameter: 24.3mm
Edge: Reeded




Seated Liberty Quarter (Motto) to Quarters
Back to Coin Collecting Homepage