Standing Liberty Quarter
(Recessed Date) 1925-1930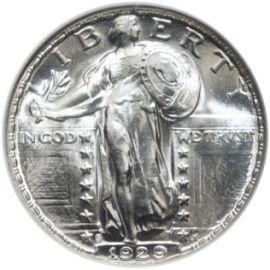 The Standing Liberty Quarter (with recessed date) was coined at the US Mint from 1925 to 1930 and has essentially the same design as its predecessor. Between the years of 1916 and 1924 it was found that the dates on these coins wore very quickly from daily use. Today, it is relatively difficult to find early date circulated examples in this series, as most dates have worn flat. In order to correct this, the design was slightly modified to make the date bolder and thus last longer.
The obverse design shows a front view of Liberty in a standing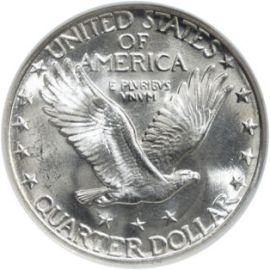 position. Liberty appears as if she were an ancient Greek sculpture with her left arm raised and carrying a shield. Drapery is being drawn from the shield by her right hand, while the same hand holds an olive branch signifying peace. The inscription "LIBERTY" is at the top of the coin, while the date is below. The motto "IN GOD WE TRVST" shows on both sides of Liberty.
The reverse of these silver coins shows an American eagle, in full flight. The inscriptions "UNITED STATES OF AMERICA" and motto "E PLURIBUS UNUM" are above, while the denomination "QUARTER DOLLAR"
is below. Along with the type 2
quarters, the recessed date variety
also has three stars below the eagle.
Coin Specifications:
Designer: Hermon A. MacNeil
Weight: 6.25 grams
Comp: 90.0% Silver, 10.0% Copper
Diameter: 24.3mm
Edge: Reeded




Standing Liberty Quarter (Recessed) to Quarters
Back to Coin Collecting Homepage