Alaska State Quarters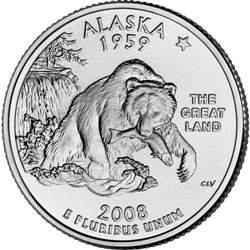 Alaska State Quarters are the 49th variety in a series of fifty design changes over a ten year period from 1999 to 2008. This Quarter was released into circulation on August 25, 2008. The reverse of the Alaska quarter features a grizzly bear with a salmon in its mouth. Alaska is home to more that 98% of the grizzly bear population in the United States. This is the largest state in the union and is over twice the size of Texas. Many other designs were considered including Mount McKinley, a polar bear and a gold miner.
The obverse of the coin is identical on all coins in this series. It features a portrait of George Washington with the inscriptions "UNITED STATES OF AMERICA", "QUARTER DOLLAR", "LIBERTY" and "IN GOD WE TRUST" arranged around the portrait.
The reverse of the coin bears the inscriptions "ALASKA 1959", "THE GREAT LAND" and "E PLURIBUS UNUM" along with the date of 2008.
State: Alaska
Nickname: The Last Frontier
Ratified on: January 3, 1959
Motto: North to the Future
Capital: Juneau
Area: 570,374 square miles
Bird: Willow Ptarmigan
Flower: Forget-me-not
Tree: Sitka Spruce
Designer: Susan Gamble
Launch Date: August 25, 2008
Mintages:
Philadelphia - 251,800,000
Denver - 254,000,000
San Francisco (clad proof) - 2,047,284
San Francisco (silver proof) - 1,020,768




Alaska Quarters to State Quarters
Back to Coin Collecting Homepage