Arkansas State Quarters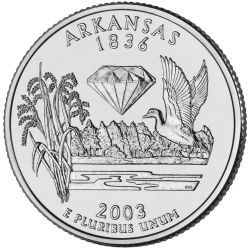 Arkansas State Quarters are the 25th variety in a series of fifty design changes over a ten year period from 1999 to 2008. This Quarter was released into circulation on October 20, 2003. This coin Marks the halfway point in the series and features a collage of items relating to the state. The first thing that pops out at you is the diamond in the center. It is there in recognition of the Crater of Diamonds State Park. This is the only diamond mine that is open to the public in the United States.
Arkansas is also known for its hunting, fishing, and agriculture. This quarter also features a mallard duck, a lake and grain stalks to round out the motif.
The obverse of the coin is identical on all coins in this series. It features a portrait of George Washington with the inscriptions "UNITED STATES OF AMERICA", "QUARTER DOLLAR", "LIBERTY" and "IN GOD WE TRUST" arranged around the portrait.
The reverse of the coin bears the inscriptions "ARKANSAS 1836", and "E PLURIBUS UNUM" along with the date of 2003.
State: Arkansas
Nickname: The Natural State
Ratified on: June 15, 1836
Motto: The People Rule
Capital: Little Rock
Area: 53,255 square miles
Bird: Mockingbird
Flower: Apple Blossom
Tree: Pine
Designer: Dortha Scott
Launch Date: October 20, 2003
Mintages:
Philadelphia - 228,000,000
Denver - 229,800,000
San Francisco (clad proof) - 3,408,516
San Francisco (silver proof) - 1,125,755




Arkansas Quarters to State Quarters
Back to Coin Collecting Homepage