California State Quarters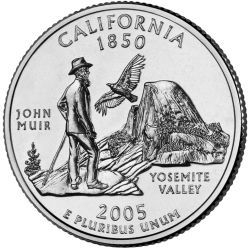 California State Quarters are the 31st variety in a series of fifty design changes over a ten year period from 1999 to 2008. This Quarter was released into circulation on January 31, 2005. The reverse of this coin shows an image of John Muir, a well known conservationist and naturalist. He inspired many Californians to preserve the natural beauty of the state. Also pictured is Yosemite National Park's "Half Dome" in the background, along with a California Condor. The Condor was near extinction but successfully re-introduced back into the wild.
The obverse of the coin is identical on all coins in this series. It features a portrait of George Washington with the inscriptions "UNITED STATES OF AMERICA", "QUARTER DOLLAR", "LIBERTY" and "IN GOD WE TRUST" arranged around the portrait.
The reverse of the coin bears the inscriptions "CALIFORNIA 1850", "JOHN MUIR", "YOSEMITE VALLEY" and "E PLURIBUS UNUM" along with the date of 2005.
State: California
Nickname: The Golden State
Ratified on: September 9, 1850
Motto: I Have Found It
Capital: Sacramento
Area: 155,973 square miles
Bird: California Valley Quail
Flower: Golden Poppy
Tree: California Redwood
Designer: Garrett Burke
Launch Date: January 31, 2005
Mintages:
Philadelphia - 257,200,000
Denver - 263,200,000
San Francisco (clad proof) - 3,262,000
San Francisco (silver proof) - 1,606,970




California Quarters to State Quarters
Back to Coin Collecting Homepage