Connecticut State Quarters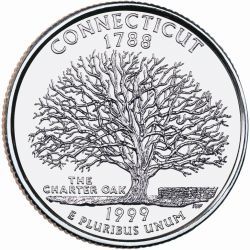 Connecticut State Quarters were the fifth in a series of fifty design changes over a ten year period from 1999 to 2008. This Quarter was released into circulation on October 12, 1999. The Charter Oak is featured on the reverse of this quarter as a symbol of the state of Connecticut.
On the night of October 31, 1687 a British representative for King James II demanded the surrender of Connecticut's charter. During a heated discussion all of the candles in the room were mysteriously snuffed out. When the candles had been relit the charter was missing. The heroic Captain Joseph Wadsworth saved the charter from the hands of the British and hid it in the safest place he could find, The Charter Oak.
The obverse of the coin is identical on all coins in this series. It features a portrait of George Washington with the inscriptions "UNITED STATES OF AMERICA", "QUARTER DOLLAR", "LIBERTY" and "IN GOD WE TRUST" arranged around the portrait.
The reverse of the coin bears the inscriptions "CONNECTICUT 1788", "THE CHARTER OAK", and "E PLURIBUS UNUM" along with the date of 1999.
State: Connecticut
Nickname: The Constitution State
Ratified on: January 9, 1788
Motto: He Who Transplanted Still Sustains
Capital: Hartford
Area: 4,845 square miles
Bird: American Robin
Flower: Mountain Laurel
Tree: White Oak
Designer: T. James Ferrell
Launch Date: October 12, 1999
Mintages:
Philadelphia - 688,744,000
Denver - 657,880,000
San Francisco (clad proof) - 3,713,359
San Francisco (silver proof) - 804,565




Connecticut Quarters to State Quarters
Back to Coin Collecting Homepage