Delaware State Quarters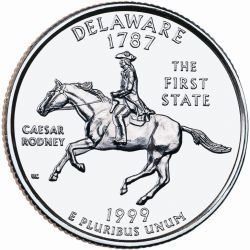 Delaware State Quarters were the first in a series of fifty design changes over a ten year period from 1999 to 2008. The Delaware Quarter was released into circulation on January 4, 1999. Its reverse depicts Caesar Rodney who was one of the three delegates from Delaware. Rodney rode horseback 80 miles through intense heat and torrential downpours in order to cast the deciding vote for Delaware's Independence.
The obverse of the coin is identical on all coins in this series. It features a portrait of George Washington with the inscriptions "UNITED STATES OF AMERICA", "QUARTER DOLLAR", "LIBERTY" and "IN GOD WE TRUST" arranged around the portrait.
The reverse of the coin shows Caesar Rodney on a horse with the inscriptions "DELAWARE 1787", "THE FIRST STATE", "CAESAR RODNEY", and "E PLURIBUS UNUM" along with the date of 1999.
State: Delaware
Nickname: The First State
Ratified on: December 7, 1787
Motto: Liberty and Independence
Capital: Dover
Area: 1,955 square miles
Bird: Blue Hen Chicken
Flower: Peach Blossom
Tree: American Holly
Designer: William Cousins
Launch Date: January 4, 1999
Mintages:
Philadelphia - 373,400,000
Denver - 401,424,000
San Francisco (clad proof) - 3,713,359
San Francisco (silver proof) - 804,565




Delaware Quarters to State Quarters
Back to Coin Collecting Homepage