Florida State Quarters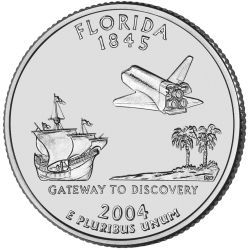 Florida State Quarters are the 27th variety in a series of fifty design changes over a ten year period from 1999 to 2008. This Quarter was released into circulation on March 29, 2004. The reverse design shows a space shuttle because Cape Canaveral Florida is the home to the U.S. National Aeronautics and Space Administration (NASA) Kennedy Space Center. Another image on the coin is that of a Spanish galleon. These ships are associated to the state because the route between Havana Cuba and Florida was very well traveled centuries ago and many ships were lost at sea. Lastly, a Sabal Palmetto Palm tree is pictured on a
beach to round out the entire design.
The obverse of the coin is identical on all coins in this series. It features a portrait of George Washington with the inscriptions "UNITED STATES OF AMERICA", "QUARTER DOLLAR", "LIBERTY" and "IN GOD WE TRUST" arranged around the portrait.
The reverse of the coin bears the inscriptions "FLORIDA 1845", "GATEWAY TO DISCOVERY" and "E PLURIBUS UNUM" along with the date of 2004.
State: Florida
Nickname: The Sunshine State
Ratified on: March 3, 1845
Motto: In God We Trust
Capital: Tallahassee
Area: 53,997 square miles
Bird: Mockingbird
Flower: Orange Blossom
Tree: Sabal Palmetto Palm
Designer: Ralph Butler
Launch Date: March 29, 2004
Mintages:
Philadelphia - 240,200,000
Denver - 241,600,000
San Francisco (clad proof) - 2,761,163
San Francisco (silver proof) - 1,789,344




Florida Quarters to State Quarters
Back to Coin Collecting Homepage