Hawaii State Quarters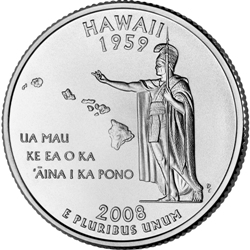 Hawaii State Quarters are the 50th and final variety in this series ranging from 1999 to 2008. This Quarter was released into circulation on November 3, 2008. The main design of the Hawaii quarter is an image of the revered King Kamehameha with an outstretched right hand toward the island chain. Kamehameha was responsible for unifying the islands in the early 1800's. The state motto is inscribed on the coin and reads "UA MAU KE EA O KA AINA I KA PONO" and is translated to "The Life of the Land is perpetuated in Righteousness".
The obverse of the coin is identical on all coins in this series. It features a portrait of George Washington with the inscriptions "UNITED STATES OF AMERICA", "QUARTER DOLLAR", "LIBERTY" and "IN GOD WE TRUST" arranged around the portrait.
The reverse of the coin bears the inscriptions "HAWAII 1959", "UA MAU KE EA O KA AINA I KA PONO" and "E PLURIBUS UNUM" along with the date of 2008.
State: Hawaii
Nickname: The Aloha State
Ratified on: August 21, 1959
Motto: The Life of the Land is Perpetuated in Righteousness
Capital: Honolulu
Area: 6,423 square miles
Bird: Nene (Hawaiian Goose)
Flower: Hibiscus
Tree: Kukui
Designer: Don Everhart
Launch Date: November 3, 2008
Mintages:
Philadelphia - 254,000,000
Denver - 263,600,000
San Francisco (clad proof) - 2,047,284
San Francisco (silver proof) - 1,020,768




Hawaii Quarters to State Quarters
Back to Coin Collecting Homepage