Idaho State Quarters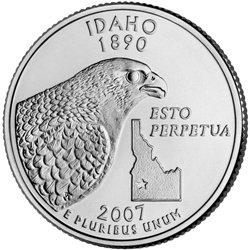 Idaho State Quarters are the 43rd variety in a series of fifty design changes over a ten year period from 1999 to 2008. This Quarter was released into circulation on June 4, 2007. With the third release in 2007, The Idaho quarter features a peregrine falcon as its main design. It also shows a textured map of the state with a star indicating the capital of Boise. The Latin inscription on the coin reads "Esto Perpetua" and is translated to "Let it endure forever".
The obverse of the coin is identical on all coins in this series. It features a portrait of George Washington with the inscriptions "UNITED STATES OF AMERICA", "QUARTER DOLLAR", "LIBERTY" and "IN GOD WE TRUST" arranged around the portrait.
The reverse of the coin bears the inscriptions "IDAHO 1890", "ESTO PERPETUA" and "E PLURIBUS UNUM" along with the date of 2007.
State: Idaho
Nickname: The Gem State
Ratified on: July 3, 1890
Motto: It is Forever
Capital: Boise
Area: 82,751 square miles
Bird: Mountain Bluebird
Flower: Syringa
Tree: White Pine
Designer: Don Everhart
Launch Date: June 4, 2007
Mintages:
Philadelphia - 294,600,000
Denver - 286,800,000
San Francisco (clad proof) - 2,002,812
San Francisco (silver proof) - 1,094,993




Idaho Quarters to State Quarters
Back to Coin Collecting Homepage