Louisiana State Quarters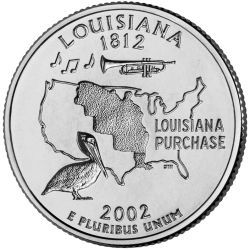 Louisiana State Quarters are the 18th variety in a series of fifty design changes over a ten year period from 1999 to 2008. This Quarter was released into circulation on May 20, 2002. The reverse of the Louisiana Quarter shows an outline of the lower 48 states along with a textured area representing the land of the Louisiana Purchase. This land was acquired by President Thomas Jefferson in 1803 for the nominal amount of 15 million dollars. That equates to approximately 3 cents per acre! The reverse of the quarter also has a trumpet that symbolizes the tradition of jazz in New Orleans. Lastly, it shows a Pelican as Louisiana's state bird.
The obverse of the coin is identical on all coins in this series. It features a portrait of George Washington with the inscriptions "UNITED STATES OF AMERICA", "QUARTER DOLLAR", "LIBERTY" and "IN GOD WE TRUST" arranged around the portrait.
The reverse of the coin bears the inscriptions "LOUISIANA 1812", "LOUISIANA PURCHASE", and "E PLURIBUS UNUM" along with the date of 2002.
State: Louisiana
Nickname: The Pelican State
Ratified on: April 30, 1812
Motto: Union, Justice, and Confidence
Capital: Baton Rouge
Area: 43,566 square miles
Bird: Eastern Brown Pelican
Flower: Magnolia
Tree: Bald Cypress
Designer: John Mercanti
Launch Date: May 20, 2002
Mintages:
Philadelphia - 362,000,000
Denver - 402,204,000
San Francisco (clad proof) - 3,084,245
San Francisco (silver proof) - 892,229




Louisiana Quarters to State Quarters
Back to Coin Collecting Homepage