Maryland State Quarters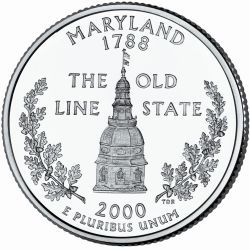 Maryland State Quarters are the seventh variety in a series of fifty design changes over a ten year period from 1999 to 2008. This Quarter was released into circulation on March 13, 2000. The reverse of this coin features the Maryland State House along with White Oak branches flanking either side.
The story behind the nickname "Old Line State" is that during the battle of Long Island in 1776, a line of Maryland troops held off the British allowing George Washington to escape. Thousands of soldiers were killed in that battle, and afterwards Washington coined the phrase in their honor.
The obverse of the coin is identical on all coins in this series. It features a portrait of George Washington with the inscriptions "UNITED STATES OF AMERICA", "QUARTER DOLLAR", "LIBERTY" and "IN GOD WE TRUST" arranged around the portrait.
The reverse of the coin bears the inscriptions "MARYLAND 1788", "THE OLD LINE STATE", and "E PLURIBUS UNUM" along with the date of 2000.
State: Maryland
Nickname: The Old Line State
Ratified on: April 28, 1788
Motto: Manly Deeds Womanly Words
Capital: Annapolis
Area: 9,775 square miles
Bird: Baltimore Oriole
Flower: Black-eyed Susan
Tree: White Oak
Designer: William J. Krawczewicz
Launch Date: March 13, 2000
Mintages:
Philadelphia - 678,200,000
Denver - 556,532,000
San Francisco (clad proof) - 4,020,172
San Francisco (silver proof) - 965,421




Maryland Quarters to State Quarters
Back to Coin Collecting Homepage