Nebraska State Quarters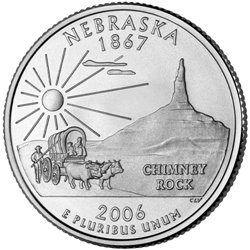 Nebraska State Quarters are the 37th variety in a series of fifty design changes over a ten year period from 1999 to 2008. This Quarter was released into circulation on April 3, 2006. The reverse of the Nebraska quarter features an ox drawn wagon carrying pioneers westward in order to discover new lands. This quarter also shows an image of Chimney Rock. This natural formation is located in the valley of the North Platte River, and stands 445 feet tall.
The obverse of the coin is identical on all coins in this series. It features a portrait of George Washington with the inscriptions "UNITED STATES OF AMERICA", "QUARTER DOLLAR", "LIBERTY" and "IN GOD WE TRUST" arranged around the portrait.
The reverse of the coin bears the inscriptions "NEBRASKA 1867", "CHIMNEY ROCK" and "E PLURIBUS UNUM" along with the date of 2006.
State: Nebraska
Nickname: The Cornhusker State
Ratified on: March 1, 1867
Motto: Equality Before the Law
Capital: Lincoln
Area: 76,878 square miles
Bird: Western Meadowlark
Flower: Goldenrod
Tree: Cottonwood
Designer: Charles Vickers
Launch Date: April 3, 2006
Mintages:
Philadelphia - 318,000,000
Denver - 273,000,000
San Francisco (clad proof) - 2,882,428
San Francisco (silver proof) - 1,585,008




Nebraska Quarters to State Quarters
Back to Coin Collecting Homepage