New Mexico State Quarters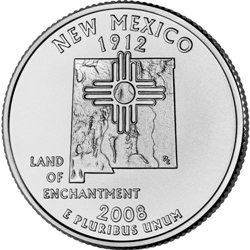 New Mexico State Quarters are the 47th variety in a series of fifty design changes over a ten year period from 1999 to 2008. This Quarter was released into circulation on April 7, 2008. The reverse of the New Mexico quarter features a topographical map of the state with a Zia Sun Symbol superimposed on it. This symbol originated with the Indians of the Zia Pueblo tribe and consists of a circle with four points radiating in all directions. The points represent the four cardinal directions, the four seasons of the year, the four phases in the day and the four phases of life. The symbol is bound together by a circle in the center representing life and love.
The obverse of the coin is identical on all coins in this series. It features a portrait of George Washington with the inscriptions "UNITED STATES OF AMERICA", "QUARTER DOLLAR", "LIBERTY" and "IN GOD WE TRUST" arranged around the portrait.
The reverse of the coin bears the inscriptions "NEW MEXICO 1912", "LAND OF ENCHANTMENT" and "E PLURIBUS UNUM" along with the date of 2008.
State: New Mexico
Nickname: The Land of Enchantment
Ratified on: January 6, 1912
Motto: It Grows as It Goes
Capital: Santa Fe
Area: 121,365 square miles
Bird: Roadrunner
Flower: Yucca
Tree: Pinon
Designer: Don Everhart
Launch Date: April 7, 2008
Mintages:
Philadelphia - 244,200,000
Denver - 244,400,000
San Francisco (clad proof) - 2,047,284
San Francisco (silver proof) - 1,020,768




New Mexico Quarters to State Quarters
Back to Coin Collecting Homepage