Wisconsin State Quarters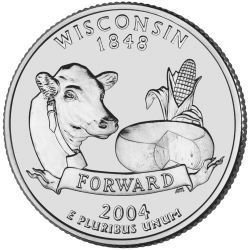 Wisconsin State Quarters are the 30th variety in a series of fifty design changes over a ten year period from 1999 to 2008. This Quarter was released into circulation on October 25, 2004. Wisconsin is known for its corn fields and dairy farms, so it's only fitting that the Wisconsin quarter feature the head of a cow, a wheel of cheese, and lastly, an ear of corn. All are closely related to agriculture and dairy, the two things that make Wisconsin what it is today.
One of Wisconsin's mottos is "Americas Dairyland" but this is not used on the coin, rather the motto "Forward" is used.
The obverse of the coin is identical on all coins in this series. It features a portrait of George Washington with the inscriptions "UNITED STATES OF AMERICA", "QUARTER DOLLAR", "LIBERTY" and "IN GOD WE TRUST" arranged around the portrait.
The reverse of the coin bears the inscriptions "WISCONSIN 1848", "FORWARD" and "E PLURIBUS UNUM" along with the date of 2004.
State: Wisconsin
Nickname: The Badger State
Ratified on: May 29, 1848
Motto: Forward
Capital: Madison
Area: 54,314 square miles
Bird: American Robin
Flower: Wood Violet
Tree: Sugar Maple
Designer: Alfred Maletsky
Launch Date: October 25, 2004
Mintages:
Philadelphia - 226,400,000
Denver - 226,800,000
San Francisco (clad proof) - 2,761,163
San Francisco (silver proof) - 1,789,344




Wisconsin Quarters to State Quarters
Back to Coin Collecting Homepage