Steel Pennies of 1943 - The only US Mint issue that does not contain copper!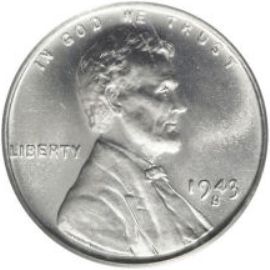 Steel Pennies were made at the US Mint in 1943 due to the war effort. The new alloy was created to temporarily replace the bronze composition that had been used since 1864. This change in coinage went a long way towards providing the needed copper during WWII. The copper was used for ammunition
shell casings among other things.
An interesting fact is that 1943 steel cents are the only circulated US coin that does not contain even a trace of copper. All other US mint issues, including silver and gold coins, contain the metal.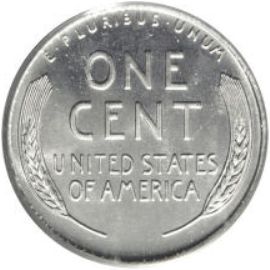 The obverse of this coin features a portrait of Abraham Lincoln with the date to the right and the inscription "LIBERTY" to the left. IN GOD WE TRUST is spelled out over the head of Lincoln as well.
The reverse bears the denomination "ONE CENT" and the inscription "UNITED STATES OF AMERICA". They have two wheat stalks surrounding the lettering. Also, spelled out above the design is "E PLURIBUS UNUM" which is Latin for "One of many".
Coin Specifications:
Designer: Victor D. Brenner
Weight: 2.70 grams
Composition: Zinc coated Steel
Diameter: 19mm
Edge: Plain




Steel Pennies to Small Cents
Back to Coin Collecting Homepage