Three Cent Silver Type 2
Small changes on a smaller coin.
The second variety of Three Cent Silver pieces was minted from 1854 to 1858. They are essentially the same design as the first but with a few minor changes.
The design on the obverse has three distinct outlines of the star beginning in 1854 and lasting through 1858. Although the reverse still has roman numerals for the denomination, it also has changes as well. It shows an olive branch above the denomination and a group of arrows below it.
Some changes that are more likely to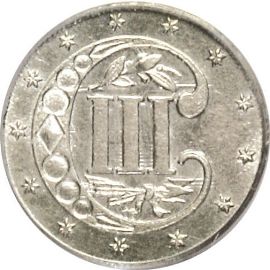 go unnoticed include the new weight and composition. In 1854 the weight of these small silver coins changed from 0.80 grams to 0.75 grams. Also, in that year the composition went from 75% Silver and 25% Copper to have a greater silver content at 90% and 10% respectively. This change in composition lasted until the end
of this particular design in 1873.


Coin Specifications:
Designer: James B. Longacre
Weight: 0.75 grams
Composition 90% Silver, 10% Copper
Diameter: 14mm
Edge: Plain




Three Cent Silver Type Two to Three Cents
Back to Coin Collecting Homepage