Three Cent Silver Type 3
A slight change from the Type 2 coin.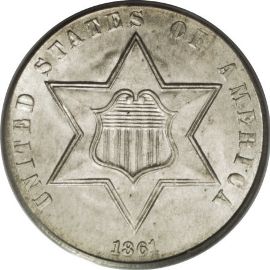 The Three Cent Silver type 3 coins were minted between 1859 and 1873. They are characterized by having two outlines of the star on the obverse. The type 2 and type 3 coins are essentially the same design with regard to this minor change on the front of the coin.
The reverse of this three cent piece still holds the same design as the type 2 coins. It shows the roman numerals III with an olive branch at the top and a group of arrows at the bottom. It has what I would describe as an ornamental "C" surrounded by 13 6-pointed stars.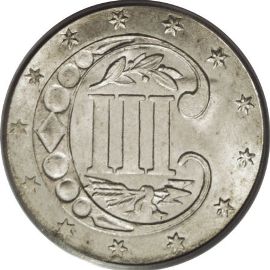 These silver coins also have the exact same composition of 90% Silver and 10% Copper as their type 2 predecessors.

Coin Specifications:
Designer: James B. Longacre
Weight: 0.75 grams
Composition 90% Silver, 10% Copper
Diameter: 14mm
Edge: Plain




Three Cent Silver Type Three to Three Cents
Back to Coin Collecting Homepage