Three Cent Silver - A coin to make commerce easier.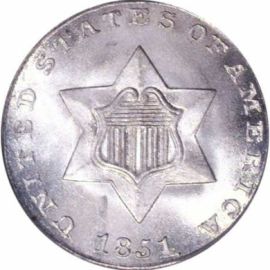 The first type of Three Cent Silver coins were minted between 1851 and 1853. They show a shield with a six pointed star on the obverse of the coin.
The reverse has a design I can only describe as an ornamental letter C with the roman numerals III signifying the denomination in the center. Also, this design is surrounded by 13 6-pointed stars representing the 13 original colonies.
The major difference between these small silver coins and the following two types is that this variety has no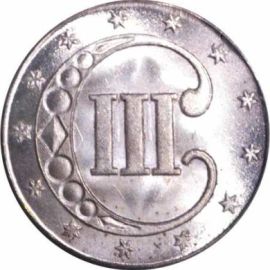 outlines around the star on the obverse. Also, the subsequent types have an olive branch above the denomination and a group of arrows below it.


Coin Specifications:
Designer: James B. Longacre
Weight: 0.80 grams
Composition 75% Silver, 25% Copper
Diameter: 14mm
Edge: Plain




Three Cent Silver Type One to Three Cents
Back to Coin Collecting Homepage