Three Dollar Gold Small Letter Reverse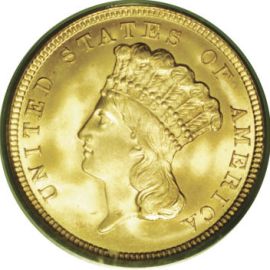 The Three Dollar Gold coin of 1854 was the only three dollar piece in the series with small letters on the reverse of the coin. These rare gold coins were created with the hopes of speeding purchases of three-cent stamps by the sheet and of the silver three-cent coins in roll quantities. Unfortunately, this did not happen and both Three Dollar coins and three cent nickel coins ceased production in 1889.
The obverse of the coin depicts an "Indian Princess" by James Barton Longacre. The portrait is not of a Native American profile, it is of the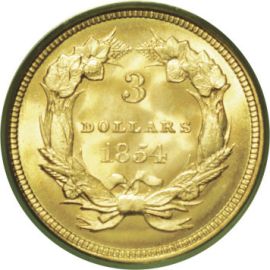 Greco-Roman Venus Accroupie. Liberty is wearing a feathered headdress of equal-sized feathers. It also has a band bearing "LIBERTY" in raised letters. She's surrounded by the inscription "UNITED STATES OF AMERICA".
The reverse of the coin shows a wreath of tobacco, wheat, corn and cotton. Surrounded by the wreath are the date and the denomination 3 DOLLARS.

Coin Specifications:
Designer: James Longacre
Weight: 5.02 grams
Comp: 90.0% Gold, 10.0% Silver
Diameter: 20.5mm
Edge: Reeded




Three Dollar Gold (small letters) to Three Dollar
Back to Coin Collecting Homepage