Ulysses S Grant Centennial Half Dollar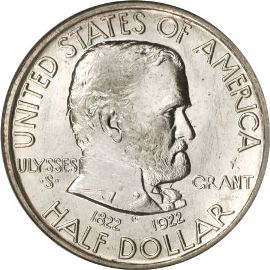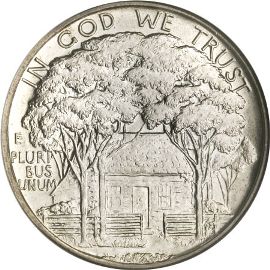 The 1922 Ulysses S Grant Centennial Half Dollar was created to commemorate the 100th anniversary of his birth. Grant was born near Cincinnati, Ohio in 1822. The early years of his life were rather uneventful as he mostly performed chores on the family farm, and honed his skills in horsemanship. As a young man he attended the U.S. Military Academy at West Point. For the next decade he served in the Army and fought in the Mexican American War. He then resigned from the Army in 1854.
At the beginning of the Civil War, Grant offered his services to the Union army. He was appointed a brigadier general and had his first major victory at Fort Donelson, Tennessee. From there, he went on to win battles at Shiloh and Vicksburg. In 1864 he was given the title of lieutenant general by President Lincoln. Grant finally defeated General Robert E. Lee and his Confederate army on April 9, 1865 at Appomattox Court House, Virginia. Ironically, five days later on April 14, 1865 President Lincoln was shot and died the next day.
The obverse of the coin shows a right facing portrait of Grant in his later years. This image was taken from a photograph by Matthew Brady. The inscriptions around the coin read "UNITED STATES OF AMERICA" and "HALF DOLLAR" while "ULYSSES S GRANT" is positioned on both sides of the portrait. The coin is dual dated "1822-1922" to indicate the centennial the coin celebrates.
The reverse of the coin shows the house where Grant was born in Point Pleasant Ohio. The house is fenced in, and is surrounded by trees. The inscriptions on the reverse read "IN GOD WE TRUST" and "E PLURIBUS UNUM".
As with most of the obsolete commemorative coins, this particular half dollar was struck with two varieties. One has a star above "GRANT" on the obverse, and one without the star. This is done mainly to increase collector interest, and sell more coins for higher profits. Many collectors, even now, prefer to have both in their collections.
Dates Minted: 1922
Authorization: Act of February 2, 1922
Authorized mintage: 250,000
Actual distribution: 4,250 (with star), 67,350 (without star)
Designer: Laura Gardin Frasier
Weight: 12.50 grams
Composition: 90.0% Silver, 10.0% Copper
Diameter: 30.6 mm
Ulysses S Grant Centennial Half Dollar to Commemorative Coins
Back to Coin Collecting Homepage