Walking Liberty Half Dollars
1916-1947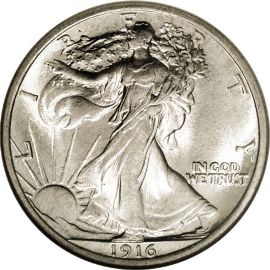 Walking Liberty Half Dollars were designed by Adolph A. Weinman and produced from 1916 to 1947. In 1916 the Dime, Quarter and Half Dollar designs were all due for a change, so Mint Director Robert W. Woolley selected three artists, apparently with the intention of awarding a different coin to each artist. Ironically, Weinman received honors for both the Dime and the Half Dollar.
The obverse design features a full-length figure of Liberty striding toward the sun, clad in the Stars and Stripes and carrying branches of laurel and oak symbolizing civil and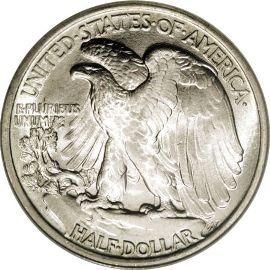 military glory. The word "LIBERTY" is in a semi-circle above the portrait, and "IN GOD WE TRUST" is located in the right field of the coin.
The reverse depicts a majestic eagle perched on a mountain, wings unfolded in a pose that suggests power. A mountain pine sapling is growing from a rift in the rock next to the eagle. These strongly patriotic themes resonated perfectly across a nation then preparing to enter World War I.
These silver half dollars are some of my favorites. All are available in high uncirculated grades. This obverse
design was very successful and was
also later used on 1oz American
Silver Eagles.
Coin Specifications:
Designer: Adolph A. Weinman
Weight: 12.50 grams
Comp: 90.0% Silver, 10.0% Copper
Diameter: 30.6mm
Edge: Reeded




Walking Liberty Half Dollars to Half Dollar
Back to Coin Collecting Homepage