Washington Quarters (Clad) 1965-Date
Washington Quarters from 1965 to 1998 are very similar in design to their earlier counterparts. The major difference is in metal composition. The earlier coins were made of "coin silver" or 90% silver and 10% copper. The newer coins are made of a thin layer of 75% copper and 25% nickel that is bonded to a pure copper core. This new "sandwich metal" coin had many advantages. They were cheaper for the US Mint to produce, they were lighter, and the coins resisted wear better, due to the copper-nickel alloy being harder.
The obverse of this coin is very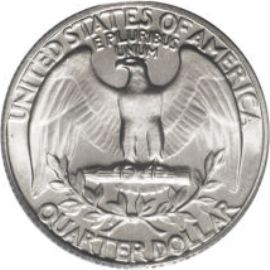 simple; it shows a bust of George Washington facing left. The inscription "LIBERTY" is above and the date below. Also, the motto "IN GOD WE TRUST" is located in the left field on the obverse. Starting in 1968, mintmarks are located to the right of the ribbon in Washington's hair.
The reverse shows an eagle with wings spread. The inscription "UNITED STATES OF AMERICA" appears in a semicircle, and "E PLURIBUS UNUM" is above the central design. The denomination "QUARTER DOLLAR" and a wreath are below the eagle.
Beginning in 1999 the US Mint produced five different state quarters each year thru 2008. The coins were made in the same order the states were admitted into the union. This program was such a success that the mint decided to extend it to the US Territories in 2009!
Coin Specifications:
Designer: John Flanagan
Weight: 5.67 grams
Comp: 75.0% Copper, 25.0% Nickel
alloy, bonded to a pure copper core
Diameter: 24.3mm
Edge: Reeded




Washington Quarters (Clad) to Quarter
Back to Coin Collecting Homepage