Washington Quarters (Silver) 1932-1964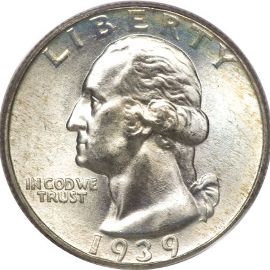 Washington Quarters served as a reason for the American public to celebrate during a time of despair. They mark the 200th anniversary of George Washington's birth. These Quarters were first made in 1932, and composed of 90% silver and 10% copper. This alloy continued until 1964, when clad coinage began.
The early 1930's brought with them much hardship in the form of millions of out-of-work Americans due to the depression. Also, to top it all off, the mid-west was suffering a massive drought. Lack of water in this area of the United States caused fertile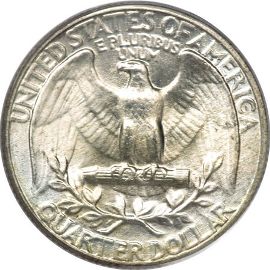 topsoil to dry up and blow away! This combination of events took a toll on the public and the US Mint wanted to do its part to raise morale.
The obverse of this coin is very simple; it shows a bust of George Washington facing left. The inscription "LIBERTY" is above and the date below. Also, the motto "IN GOD WE TRUST" is located in the left field on the obverse.
The reverse has a spread-winged eagle on it with "UNITED STATES OF AMERICA" and "E PLURIBUS UNUM" in a semi-circle above. The value
"QUARTER DOLLAR" and a wreath are
below the eagle.
Coin Specifications:
Designer: John Flanagan
Weight: 6.25 grams
Comp: 90.0% Silver, 10.0% Copper
Diameter: 24.3mm
Edge: Reeded




Washington Quarters (Silver) to Quarter
Back to Coin Collecting Homepage