William Henry Harrison
Presidential Dollar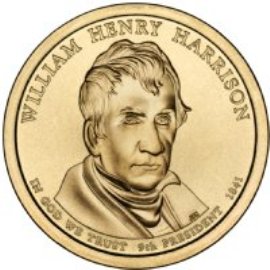 The William Henry Harrison Presidential Dollar marks the ninth in the series. The coins were first released into circulation on February 19, 2009. Harrison only served 32 days in office after developing pneumonia as a result of reading his two hour inaugural speech in the rain.
Some fun facts about Harrison include purchasing over 50 million acres of land for $2,550 from the Shawnee Indian tribe. After they realized they had been duped, the transaction sparked the Battle of Tippecanoe. Also he was the grandfather of future president
Benjamin Harrison. He also rejected
efforts to abolish slavery.
The obverse of this golden dollar shows a portrait of Harrison with his name inscribed above, "IN GOD WE TRUST" and "9th PRESIDENT 1841" inscribed below. New legislation called for the motto to be placed on the obverse of the coin.
The reverse of the coin is the same on all issues. It bears a portrait of the Statue of Liberty, and includes the inscriptions "UNITED STATES OF AMERICA," and "$1" for the denomination.
The edge of the coin has the date and mintmark along with the mottoes "IN GOD WE TRUST" and "E PLURIBUS UNUM."
Born: February 9, 1773
Birthplace: Charles City County, Virginia
Political Party: Whig
Term of Office: March 4, 1841 thru April 4, 1841
Vice President: John Tyler
First Lady: Jane Irwin Harrison, his daughter-in-law
Nickname: Old Tippecanoe
Died: April 4, 1841




William Henry Harrison Presidential Dollar to Presidential Dollars
Back to Coin Collecting Homepage