Wreath Cents - Strike two for the
U.S. Mint!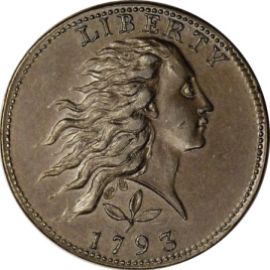 Wreath Cents were the second attempt by the U.S. Mint to find an acceptable design for this denomination. Along with the Chain Cents, this liberty coin also met with much public dis-approval.
The obverse of these coins has a portrait of liberty with free-flowing hair. Liberty's hair on these coins is much more defined and in higher relief than that of the Chain Cents. The obverse also shows a sprig of what appears to be laurel under liberty but above the date. Most all of these cents have a similar sprig. However, an exceedingly rare variety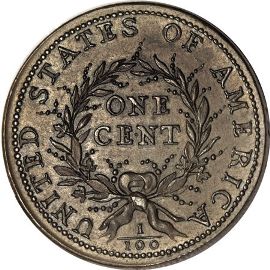 exists called the "strawberry leaf" variety. Approximately only four or five examples are known and all are in below average grades.
The reverse of these copper coins show a wreath appearing to be made of laurel to the untrained eye. However, the wreath has thin twigs jutting out from it with berries on them. This characteristic would be very different from that of a laurel one. It is unlikely that anyone knows what plant David Rittenhouse had in mind. It is perhaps a combination of many different types of foliage.
Coin Specifications:
Designer: Henry Voigt
Weight: 13.48 grams
Composition: 100% Pure Copper
Diameter: 26-28mm
Edge: Bars and Vine, or ONE HUNDRED FOR A DOLLAR followed by one or two leaves.

---
A very rare variety: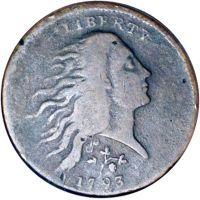 Pictured at left is an example of the "Strawberry Leaf" variety of this denomination. Notice the difference in the sprig between liberty and the date. Approximately 4 or 5 of these coins are known to exist making them a very highly prized possession for coin enthusiasts.







The Libertas Americana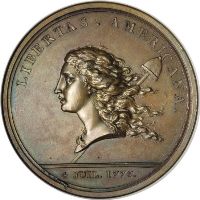 These liberty coins, along with their earlier counterparts, were inspired by a French medal called the Libertas Americana. This historical medal was designed by French medalist Augustin Dupre and was minted in the late
18th Century. As you can see the obverses
of these coins are very similar.


Wreath Cents to Large Cents
Back to Coin Collecting Homepage