Zachary Taylor Presidential Dollar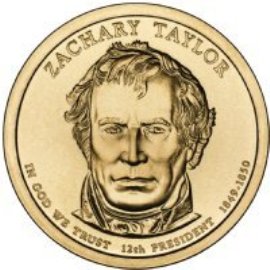 The Zachary Taylor Presidential Dollar marks the twelfth in the series. The coins were first released into circulation on November 19, 2009. Taylor served approximately one year and four months as president before his death in 1850. Millard Fillmore replaced him and carried out the remainder of his term.
A little known fact about Taylor was that he was so short that he had to be boosted into the saddle of his horse Old Whitey. He was also a soldier for 40 years, and as commander, he never lost a battle. Lastly, Taylor had never voted or
belonged to a political party before he ran for president at the age of 62.
The reverse of this golden dollar shows a portrait of him with his name inscribed above, "IN GOD WE TRUST" and "12th PRESIDENT 1849 to 1850" is inscribed below.
The reverse of the coin is the same on all issues. It bears a portrait of the Statue of Liberty, and includes the inscriptions "UNITED STATES OF AMERICA," and "$1" for the denomination.
The edge of the coin has the date and mintmark along with the mottoes "IN GOD WE TRUST" and "E PLURIBUS UNUM."
Born: November 24, 1784
Birthplace: near Barboursville Virginia
Political Party: Whig
Term of Office: March 4, 1849 thru July 9, 1850
Vice President: Millard Fillmore
First Lady: Betty Taylor Bliss, daughter
Nickname: Old Rough and Ready
Died: July 9, 1850




Zachary Taylor Presidential Dollar to Presidential Dollars
Back to Coin Collecting Homepage