Braided Hair Half Cent
A unique series in US coins!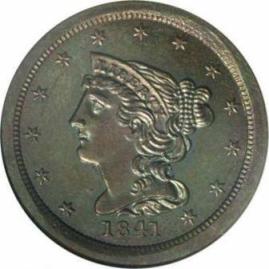 The Braided Hair Half Cent was designed by Christian Gobrecht. He used the same design he created for the 1839
Large Cent
. The obverse features a portrait of liberty with her hair in a bun and flowing down over her shoulder to the base of her bust. The reverse, as with previous issues, has a wreath with the denomination HALF CENT in the center and UNITED STATES OF AMERICA around it.
In the mid 1850's it was customary to give visiting dignitaries US proof sets as gifts. Christian Gobrecht initially designed this series for that purpose. This also created a ten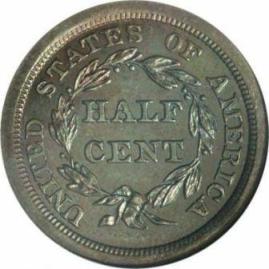 year period between 1840 and 1849 where only proofs were made. This is a unique period that has never happened again in US numismatics.
In 1849 business strike production began for this series. It continued to 1857. Although proofs were minted, the majority of the coins minted during this time were for commerce purposes.
In 1857 it was determined that the small copper coins were no longer needed in day to day commerce. This would mark the end of the denomination and it would never return again.
Coin Specifications:
Diameter: 23mm
Composition: 100% Pure Copper
Weight: 5.44 grams
Edge: Plain
---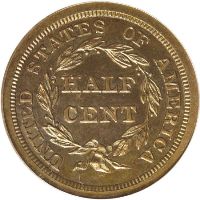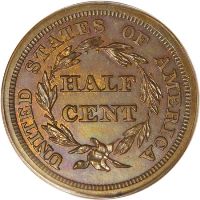 Each year between 1840 and 1849 has an original proof and a proof restrike. These coins are relatively easy to tell apart. The originals have large berries on the wreath (left) while the restrikes have small berries (right). The mint issued a final restrike edition in 1852.