Liberty Double Eagle Type 3
(1877-1907)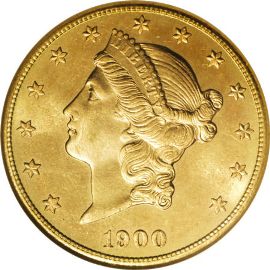 The Liberty Double Eagle (Type 3) was issued at the US Mint from 1877 to 1907. Legislation was passed in February 1849 to mint these twenty dollar gold coins along with the new gold dollars. This Type 3 variety enjoyed continuous production for 31 years. It was the longest run of any coin of this denomination. These coins were minted at five different US Mint facilities, including: Philadelphia, San Francisco, Carson City, New Orleans, and Denver for the last two years in 1906 and 1907.
Once again the obverse of these gold coins has gone relatively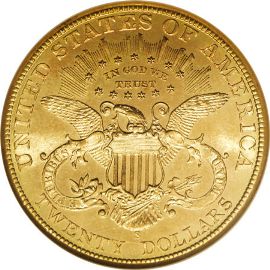 unchanged. The front of the coin shows a portrait of Liberty inspired by a Greco Roman sculpture and designed by James B. Longacre. Liberty is surrounded by 13 stars, and has the date positioned below.
The only major design change for
the reverse was the inscription for the denomination. Chief engraver William Barber decided to change it from "TWENTY D." to "TWENTY DOLLARS". His decision was supported and continued to the end of the series in 1907.
Some investors use low grade twenty and ten dollar gold coins,
for the metal content, as an
alternative to bullion coins, if they
are unavailable. Generally, the
premiums are higher on numismatic
coins in high grades, as opposed
to lower grades.
Coin Specifications:
Designer: James B. Longacre
Weight: 33.44 grams
Comp: 90.0% Gold, 10.0% Silver
Diameter: 34mm
Edge: Reeded




Twenty Dollar Gold (Type 3) to Double Eagle
Back to Coin Collecting Homepage