St Gaudens Double Eagle (High Relief)
The St Gaudens Double Eagle (High Relief) coins are some of the most beautiful coins made at the US Mint. They are in my opinion the pinnacle of any gold coin collection, and are highly sought after by many collectors. Despite only being produced in 1907 these coins have a rich history. President Theodore Roosevelt commissioned Augustus Saint-Gaudens to design his inaugural medal in 1905; he liked it so much that he urged the artist to re-design the Eagle and Double Eagle denominations.
The obverse of this coin shows a full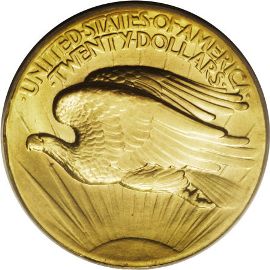 length portrait of Liberty holding a torch in her right hand and an olive branch in her left. Liberty is in full stride with the suns rays behind her, the word "LIBERTY" is inscribed above her and the US Capitol Building to the left of her gown. Encircling her are 46 stars signifying each state in the Union at that time. The High Relief coins have the date expressed in the Roman Numerals "MCMVII" or 1907 in Arabic Numerals.
The reverse of this stunning coin bears the inscriptions "UNITED STATES OF AMERICA" and "TWENTY DOLLARS" over an eagle soaring through the suns rays. These coins
were also initially produced with a
wire rim, similar to ten dollar Eagles
of the same date. The coins did not
stack well, so a flat rim was adopted
in its place.
Coin Specifications:
Designer: Augustus Saint Gaudens
Weight: 33.44 grams
Comp: 90.0% Gold, 10.0% Silver
Diameter: 34mm
Edge: E PLURIBUS UNUM
stars between the words




St Gaudens Double Eagle (High Relief) to Double Eagles
Back to Coin Collecting Homepage