St Gaudens Double Eagle (with Motto)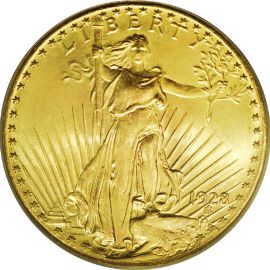 The St Gaudens Double Eagle with Motto rounds out the twenty dollar denomination. These large gold coins were coined at the US Mint from 1908 thru 1933. As the name implies they were designed by Augustus Saint Gaudens and bear his initials "ASG" below the date on the obverse of the coin.
The obverse depicts liberty holding a torch in her right hand and an olive branch in her left, her hair blowing in the wind. The capital building is positioned to the left of her gown and the date to the right. The word "LIBERTY" is inscribed at the top and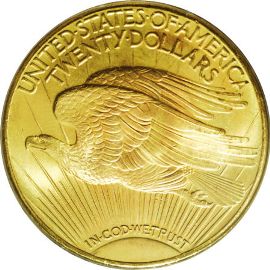 the entire design is surrounded with 46 stars representing each state of the union at that time.
The reverse of this gold coin bears the inscriptions "UNITED STATES OF AMERICA" and "TWENTY DOLLARS" over an eagle soaring through the suns rays. The motto "IN GOD WE TRUST" reads above the sun at the base of the coin.
Coin Specifications:
Designer: Augustus Saint Gaudens
Weight: 33.44 grams
Comp: 90.0% Gold, 10.0% Silver
Diameter: 34mm
Edge: E PLURIBUS UNUM
stars between the words




St Gaudens Double Eagle (Motto) to Double Eagles
Back to Coin Collecting Homepage